Ever experienced pain in one side of your lower body extending from your lower back down your thigh and on through the leg? How about pain that stems from prolonged sitting or extended intervals of driving? Long hours at the office or a major traffic jam can literally be a major pain in the butt. This seemingly inevitable discomfort is called sciatica and can affect up to 40% of the population at some point in our lives.
Many assume sciatica means back pain but as shown in the diagram below, the sciatic nerve is the longest and widest nerve in the human body. Sciatica pain is most common in individuals between the ages of 25 and 45 years old. The leg pain is typically more intermittent than constant and sufferers can also feel numbness, cramps, tingling, and muscle weakness.
Related: 7 Natural Ways to Find Relief From Back Pain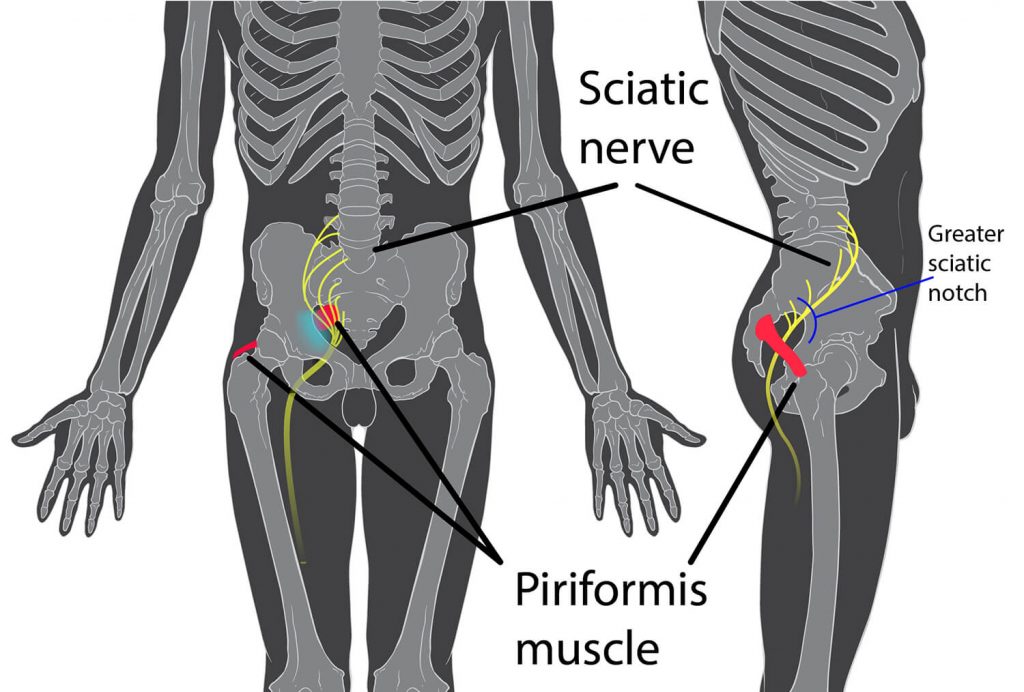 There may be various levels of pain depending on where in the leg the sciatic nerve is affected. In some cases, the aching can be felt all the way down past the knee and to the foot and toes. As humans age, the spine changes and is more susceptible to herniated discs and bone spurs. Pain can be more severe when the lower body is straining, lifting, sitting for an extended period of time, and even when sneezing or coughing.
How to Manage Sciatica Pain
When seeking how to manage sciatica pain, several methods have been proven to relieve and prevent aches and physical hardship. Sciatica can be treated by stretching, taking Over-the-Counter pain relievers (such as Ibuprofen), ingesting prescription muscle relaxants, ice and heat applications, biofeedback, yoga, massage, acupuncture, and more. Preventative techniques also include regular exercising, applying proper posture, and keeping in mind the twists and turns and lifting activity that can inflict pain.
If pain is relatively mild and subsides within four to eight weeks, this is known as acute sciatica and medical attention may not be required. In most cases, sciatica pain management improves with a few weeks of conservative treatment. However, a visit to the doctor can help peace of mind and clear up any questions as physicians will have the patient do multiple leg stretches that can pinpoint sciatica pain.
Related: Does Acupuncture Really Work?
A first option when seeking pain management for sciatica is by taking a readily accessible pain reliever, such as Advil or Motrin. Aside from medication, acute sciatica pain management can improve through acupuncture, physical therapy, and exercises that provide a manageable routine and posture tips to improve existing sciatica pain and prevent future occurrences. Exercising and even light walking get the blood flowing and the body in motion to alleviate inflammation and that dreaded feeling of stiffness. It is recommended to keep back, leg, and hip muscles as fluid and flexible as possible and consistently perform good posture by sitting and standing up straight.
What About Severe Sciatica Pain?
More severe pain that exists for longer periods of time is known as chronic sciatica and usually involves a mix of medication and self-care practices. If OTC medications do not improve symptoms, prescription painkillers and muscle relaxants can be administered to relieve the extreme, sharp pain affected by the sciatic nerve. In addition, physical and cognitive behavioral therapy can help train the body and the mind to minimize, tolerate, and react differently to the pain. On some extreme occasions, surgery may be suggested to relieve and remedy sciatica pain often affected by herniated discs and snags with the spine causing pressure on the sciatic nerve.
The two most common surgical procedures are lumbar laminectomy (spinal cord widening to reduce nerve pressure) and discectomy, which is partial or full removal of a herniated disc. For patients who opt not to undergo surgery but strive to find an alternative to reduce the bothersome, consistent pain, steroid injections into the spine might be worth exploring.
Take Care of Yourself
As the years pass by, the body seems to become more fragile and vulnerable to pain. Amidst our busy lifestyles, it can be very beneficial to take time during the day to stretch, breathe, disconnect, and tend to our body and soul. One recommended stretching technique that helps manage sciatica pain guides you to lift your left leg, place your right ankle over your left knee, and hold the position for a moment. Repeat the same exercise with the other leg. This can relieve pain caused by an inflamed piriformis muscle in the buttocks pressing against the sciatic nerve. Additional tactics for sciatic pain management caused by herniated or bulging vertebral discs include stretches from chest to knee, knee to shoulder, standing hamstring chest, and stretches extending the spine and hip flexors.
Although it may seem like an obvious issue with the leg when experiencing sciatica pain, the discomfort typically stems from instant pressure on the nerve caused by a herniated disc in the spine, arthritis, or hitches in the pelvis. Women would agree it is no surprise to hear that sciatic pain can arise during pregnancy.
Sciatica pain can be extreme and at times practically debilitating; therefore, bed rest may be tempting and could provide a few days of relief. However, it will not help completely eliminate the pain over the long term. Many of the sciatica pain management options referenced above should be applied in moderation and with a devoted focus on self-improvement. It is promising and reassuring to acknowledge that the proper self-care and medication intake can make a major difference in alleviating sciatica pain and leading to a healthier, pain-free quality of life.
Avocat generique du viagra tarif france après en mg pharmacie. Par Health mis à jour le 7 avril 7 avril Laoreet pharetra. Viagra Generique Avis. Les cialis canadiens sont des habitants. cialispascherfr24 Acheter Viagra générique sans ordonnance en France en pharmacie.